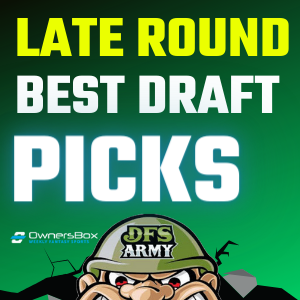 The Geek and Alan Seslowsky identify the best draft picks in rounds 7-16 of your fantasy football drafts.
Show Sponsor OwnersBox.com (DownLoad the App too)
Weekly Fantasy Football with a Superflex!
Use link to sign up for OB Use Code "Drew9" for FREE $10 entry
https://wlownersbox.adsrv.eacdn.com/C.ashx?btag=a_20b_24c_&affid=19&siteid=20&adid=24&c=
Join the DFS Army today! www.dfsarmy.com/pricing
Coupon Code Sez saves you 10% on a VIP or Core4 Membership!
Follow On Twitter DFSARMY HTTP://www.twitter.com/DFSARMY
The Geek HTTP://www.twitter.com/ffootballgeek
Alan Seslowsky HTTP://www.twitter.com/alanseslowsky
#FantasyFootball #NFLFantasy #FantasyFootballrankings #DFSARMY #Draftlkings #ESPN